So at some point in everyone's lives I am sure they have been walking down a mall minding their own business, when some sales person decides to drag you to their kiosk and show you their fantastic product they have to shell out your cash on.





On this particular day this happened to me at a MicaBella cosmetics stand. Normally I avoid any of these places, as one usually does, but I'm a sucker for vibrant eyeshadow, which is usually so hard to find. My eyes caught on to the vibrantly hot pink eye shadow pot known as Resonance [#81] and the seller was keen on showing me a million other shades but my heart was set on this vibrant puppy.




The seller was more than happy to smear it across my poor hands, but was able to show all the uses this eyeshadow really has. Mix it with clear liquid balm, you have lip color. Mix it with clear liquid nail polish, you have nail color. Mix it with water and you've got a cream eyeshadow instead of powder. Then the seller also mentioned that if mixed with water i could even do a streak in my hair, and told me this magical item could be mine at $15. I told her I'd have to think about it and come back, and of course she winked at me and told me in a whisper, "I can give it to you for ten." At this price, I was sold. I know it's been used on other customers as a sales gimmick as well, but it's cheaper than the listed price of $14.95 on their website
MicaBeauty
, and that doesn't even include the tax or shipping costs.

I tried it out and loved the effect and came back later on to purchase another to blend with my pink eyeshadow, Allowance [#85].





After blending the two together, I got a what a was hoping for, a nice and colorful, vibrant look.





Pictured here with my younger brother



I'm also showing you these photos so you can see how the coloring on my hair looks at this point. I decided to use the makeup to take it a step further and try actually using the pink eye shadow in my hair. This was after day dreaming at work about making my hair look like this: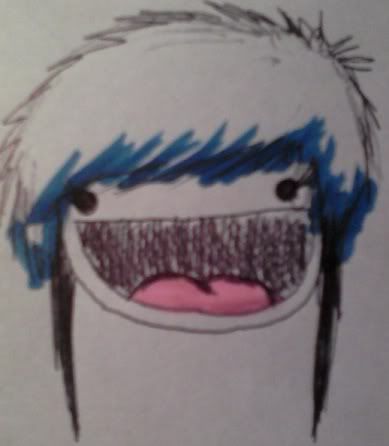 I tried the water streak effect, which didn't work out too well. So then I just shook out an small amount of eye shadow and used my fingers to rub it through my bangs. I was very pleased with the results.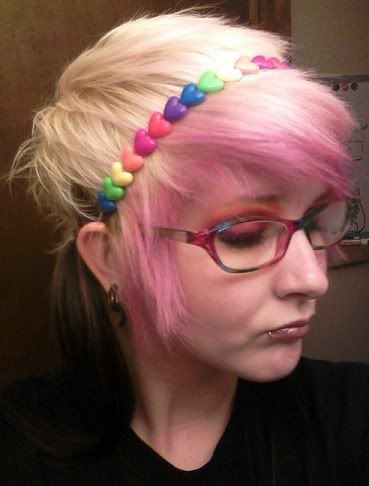 I'm also seen here again wearing the pink/yellow combination blend.



My main worry about doing this with the eyeshadow was staining my hair. I work at a job where my boss would not be happy if I showed up with hair crazier than what it's already come to, so I needed something that would be temporary and easy to do. And behold the next day after shampooing my hair, the eyeshadow washed away completely, without leaving any tints or stains behind.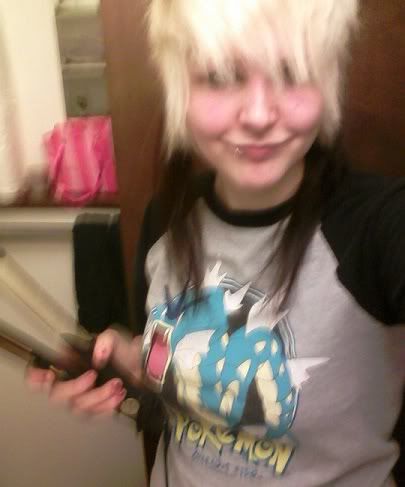 And yes, I realize I'm a complete goofball here, but this is my post-shower proof!



My mother offered to take the hour long drive to the mall today and so I cheerfully tagged along, now hoping to get my hands on some blue MicaBella eyeshadow. I had trouble finding the kiosk at the mall, seeing as where it once was was now replaced my BOATS! [And who knows how they get those things in there!] But I luckily spotted the kiosk minutes before the mall was to close and chose the hue Freeze [#104].




I have yet to try out this as just an eyeshadow as I just got my hands on it this evening, but was able to try it out in my hair. The effect is less vibrant than what I will later wear it as when I go out with the color, but I just didn't want to use a lot of eyeshadow just to take a picture and have to wash it out the next day, although it takes VERY LITTLE of the eyeshadow to actually get the effects I've had in my hair.




There you have it! I talked to one of the ladies working at the kiosk today about my success with the hair coloring, and she had dark brown/black hair but was able to tone her hair with it as well, but it will obviously show up more as the lighter your hair is. Hope you guys enjoyed <3